anb Mobile - anb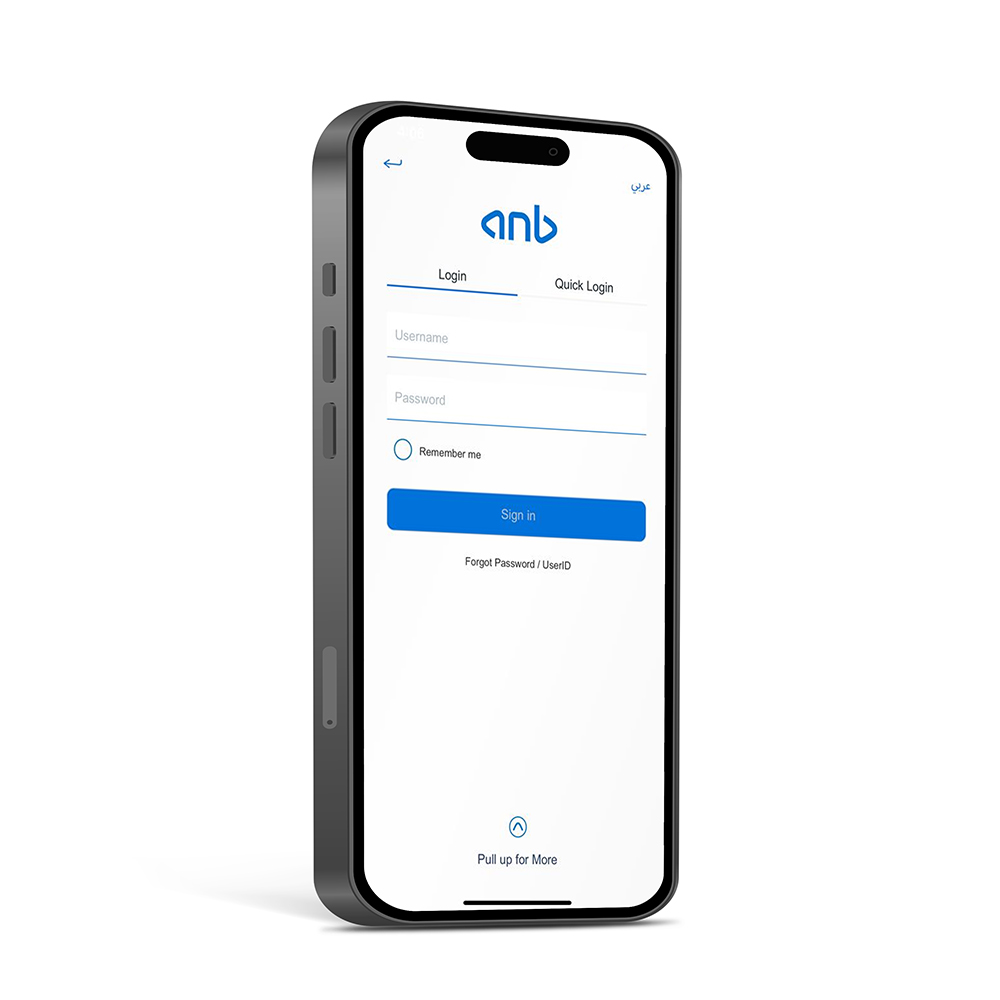 Quick access
Biometric sign in
Quick login
Remember me
Dynamic map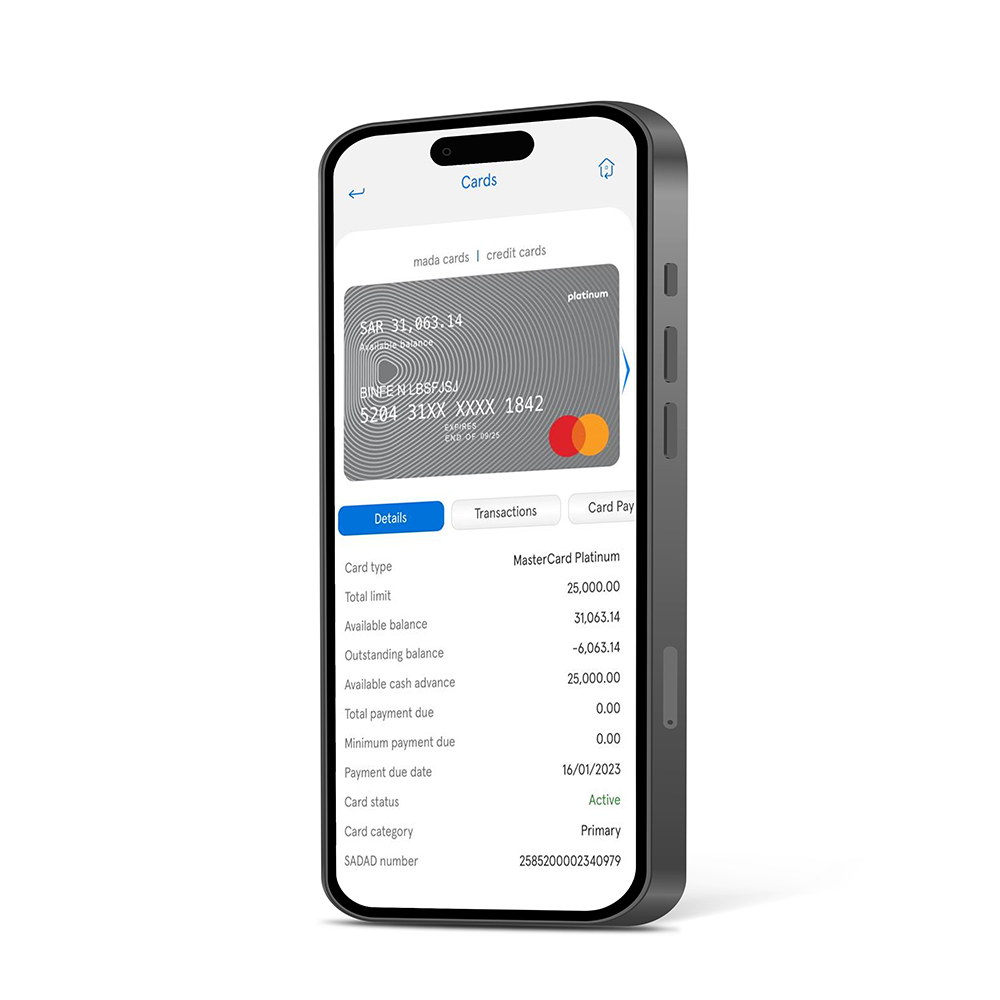 Enhanced security
Activate/stop cards
Set limits
Change PIN
Biometric sign in
Quick login
Add card to Apple Pay
Digital cards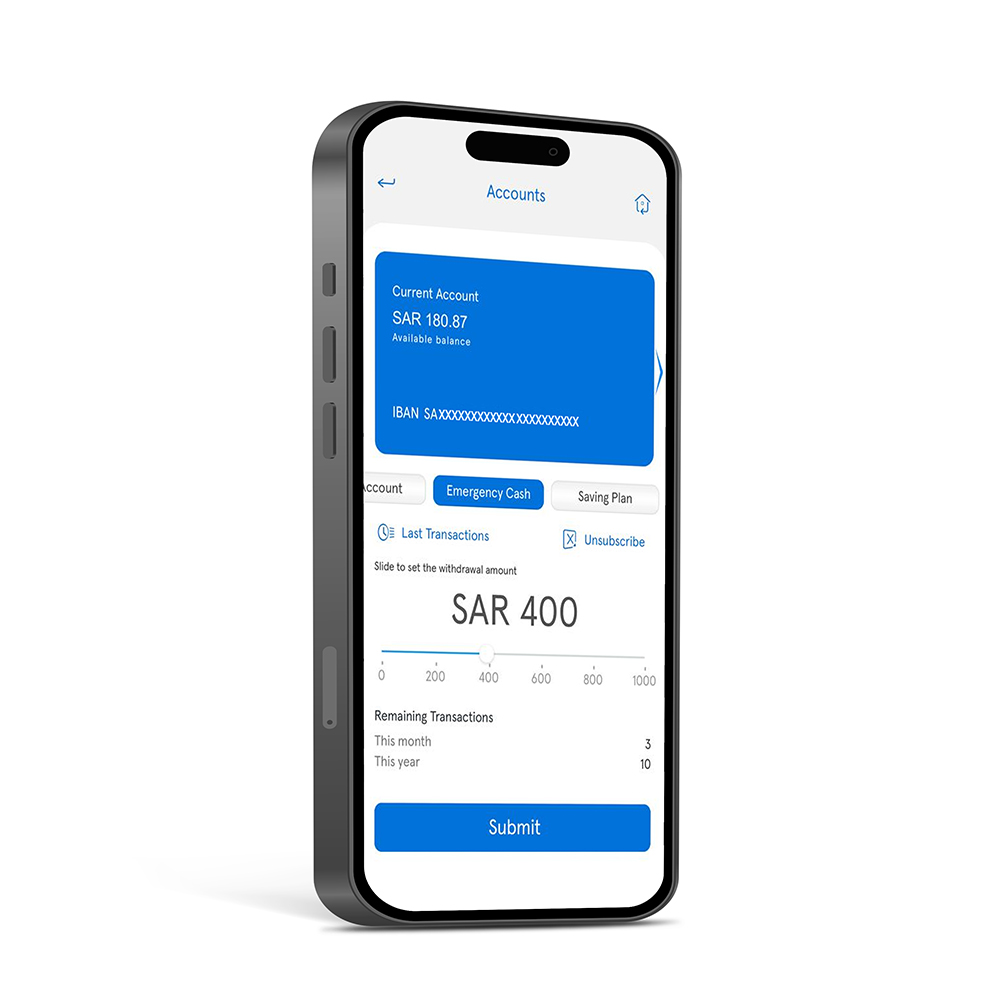 Take control
Pay multiple bills
Transfer / add beneficiaries
Make government payments
Transfer / add Telemoney beneficiaries
View CVV
View financial position
Emergency cash
Cash advance
View anb rewards
Manage portfolios
View current finance products
Currency converter
Transfer funds instantly using Alias or IBAN
Manage alias and transfer limit for Quick transfers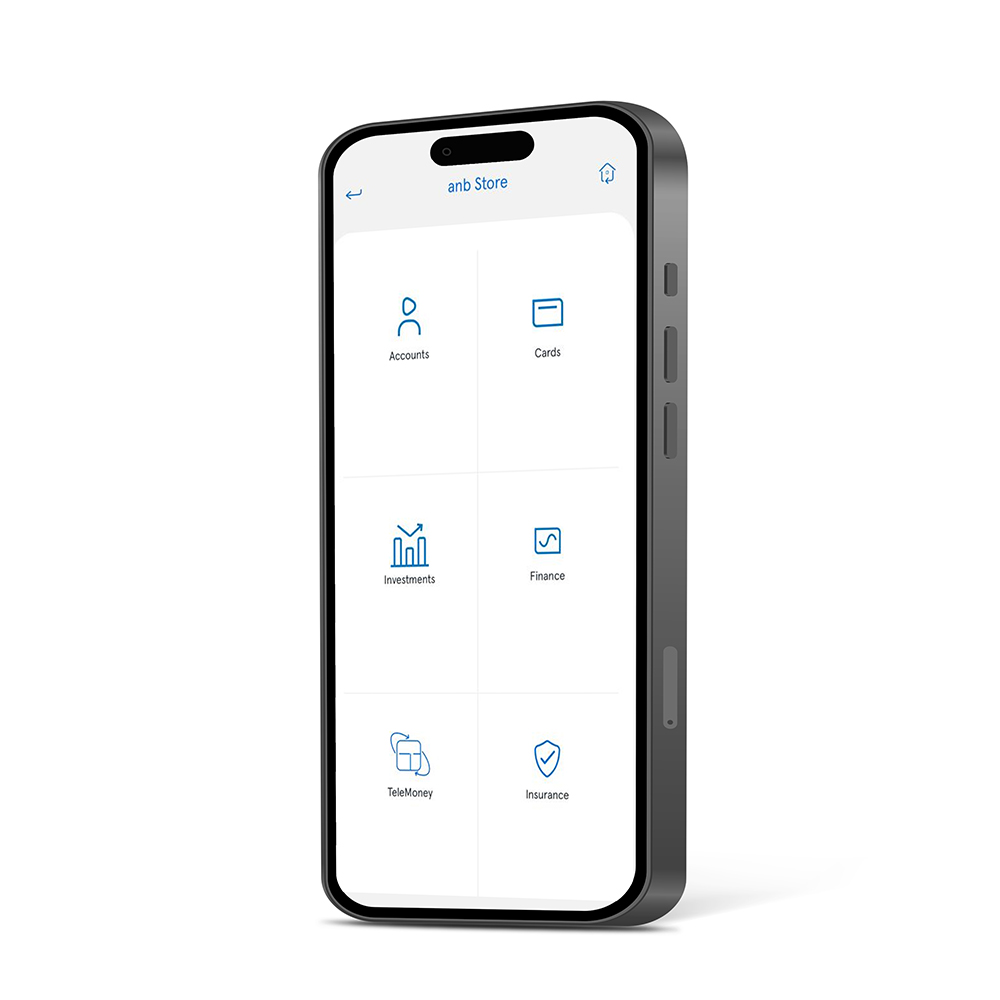 Apply online
Personal finance
Real Estate finance
Credit card
Mada digital card
Investment funds
Insurance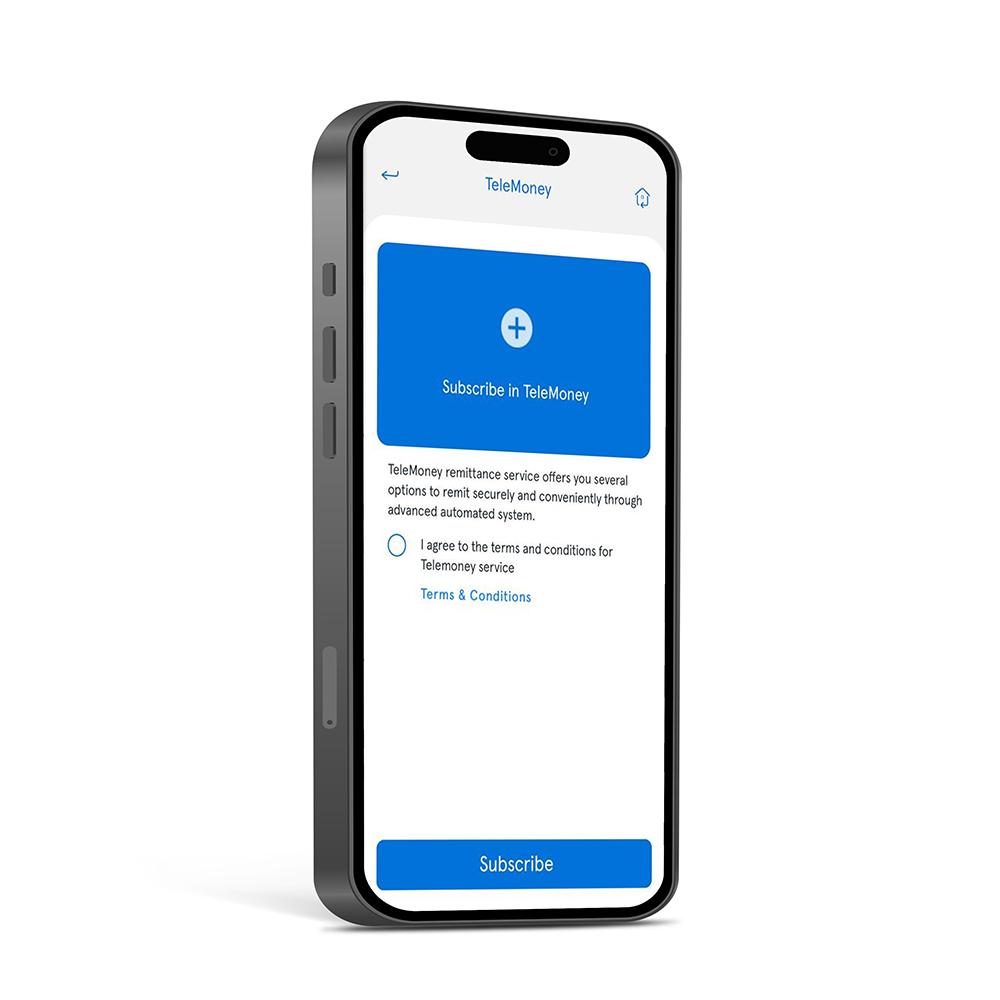 Convenient Enrollment
Open account
Open Investment account
Register in online banking
Subscribe in Telemoney
Security tips
Do not share your mobile and always use your private mobile to log into mobile banking service.
Use a pin number to protect your mobile and keep it locked.
Do not disclose any of your banking information to anyone such as accounts, user name, password or SMS alerts.
Do not save your mobile banking user name, password, account number, ATM card number in your mobile.
Make sure to log out successfully whenever you finish from using Mobile Banking Application.
Make sure to download the official version of anb mobile through "App store", "Google play" and "Huawei" only and do not acquire apps from untrusted sites.
Avoid downloading any Apps that may conflict with anb mobile application. Your mobile will alert you if you are downloading a non-secure app. Do not ignore this message as such apps can make your phone vulnerable to threats and may compromise your device and its information.
Always maintain the latest version of operating system and anb mobile on your device.
Do not break the security system of your mobile by using any untrusted programs since it would make your device vulnerable to threats.
Be careful whenever you browse untrusted/ unsecured websites, because it may contain some viruses which could damage your mobile.
Make sure to provide the bank with a valid and updated mobile number.
anb mobile application is a service offered by anb and its not allowed to use it for business purposes under any circumstances.
In case of facing any issues please send a message to ebank@anb.com.sa or contact Phone Banking at 8001244040
Login or Register
If you have already registered in anb net service then you can use the same user ID and password to login and use anb mobile.
If you are a new user then click on the "Enroll to online banking" button visible on the login screen and follow the simple steps to get onboard.
Frequently Asked Questions
What is anb mobile service?
It's a new channel that enables anb retail customers to perform their banking transactions easily through their smart phone devices.
All anb active retail customers.
What is the information needed to register in anb mobile?
ID number (Valid ID).
Primary mada card number (Active).
mada card PIN number.
What are the services offered by anb mobile?
Open a new account in anb.
Registration in anb mobile.
Reset password.
Forgot user name.
Login with biometrics.
Save user ID.
Accounts
List of all current and saving accounts.
Account mini statement (Last 10 transactions).
Account full statement (Last 6 months).
Account details.
Emergency Cash (Cash withdrawal from an ATM without mada card).
Open Sub-account (Current/ Saving).

Financial Position
Graphical view of the total Assets and Liabilities.

Transfers
Between customer's accounts.
To another anb account.
To local banks.
To international banks.
To Investments houses.
To Enjaz Technology.

Manage Beneficiaries
Add new beneficiary.
Delete existing beneficiary.
Activate beneficiary.
View beneficiary's details.
Edit beneficiary's shot name.

mada card
Mada card details.
Mada card PIN change.
Purchase limit change (via POS / E-commerce).
Add the card to Apple Pay.
Show CVV
Stop mada card.
Apply for mada digital card.

Credit Card
Credit card list.
Credit card details.
Credit card statement.
Credit card payment (full, partial , and minimum amount).
Cash advance.
View unbilled transactions.
Apply for new Credit Card.
Show Rewards.
Set PIN.

Bill Payments
View a list of all bills.
Pay a bill or Multiple bills.
Pay Once.
Add new bill.
Delete a bill.
Activate a bill.
Edit bill's short name.
Esal Services.
Display transaction limits for all financial transactions
Change password
ATM and Branch Locator
Locate the nearest anb ATMs and Branches.
Indicate the ATM type (Cash Withdrawal / Deposit).
Switch between list and map view.
Get on map directions to the selected ATM / Branch.
Exchange Rate Inquiry
Buy and Sell rates for 20 currencies.

Contact Us
Message Center : The customer can send and receive messages from the bank, whether a complaint / suggestion / notification.
Email - ebank@anb.com.sa
Direct call to anb phone banking – numbers appear based on the customer segment – or At +966920005555.

Contact Us Through Social Media
Twitter: anb_bank
Facebook: anbksa
Instagram: anb_bank
YouTube: Arab National Bank
LinkedIn: Arab National Bank

Offers
View the list of offers submitted by the anb.

Government Payments
Pay government service fees and traffic violations.

IPO
This service will be available upon IPOs.

Time deposit Details
View the time deposits details.

Finance Products
View financing details (Personal finance and real estate finance).
Apply for Real estate / personal finance.

Investment Products
View the investment account (account details / Transactions / transfer from/to the investment account and the current account / update the investment account).

anb Store
Apply for open sub-account (current/saving).
Apply for issue a mada digital card or credit card.
Apply for real estate / personal finance.
Apply for open an investment account (brokerage / equity funds / money market and trading funds / multi asset funds / sukuk funds).
Apply for vehicle insurance / travel insurance / medical insurance.
Sign up in telemoney service.
Is anb Mobile a free or a paid service?
anb mobile is free of charge.
What type of device is required for anb mobile?
What are the minimum requirements to install anb mobile application?
iOS version 8.0 and above / Android OS version 4.2 and above.
Also, anb customers having any kind of smartphone or tablet device can now access our mobile banking by simply typing mobile.anb.com.sa in the internet browser of their device.
Yes, anb mobile applies high security standards.
Does anb mobile store my financial data on the device?
Can I register in anb mobile when I am outside of Saudi Arabia?
Yes, you can register easily from the Kingdom or abroad if you have all required banking information.
How can I register in anb mobile service?
If you are an anb net user, you can use the same user ID and password to login to anb mobile or you can click on the registration button in the login screen and follow the steps.
How do I reset my password?
In login screen you will find an item "Forget password and User ID" press on it and follow the steps.
I am an anb net user but I didn't login for more than 6 months, can I use the same user name on anb mobile?
Yes, but when you enter your user name and password then you will be asked to follow a simple activation process.
Which accounts will be able to view through anb mobile?
You can view all your existing accounts (current accounts, saving accounts, Investment accounts, credit cards, and time deposits).
What is the transaction limit for transfers?
Transaction limits will be displayed while you perform any financial transaction. The limits are dynamic and will be updated based on usage.
Can I add a new beneficiary through anb mobile?
Yes, you can add:
anb beneficiary.
Local beneficiary.
Investment House beneficiary.
International beneficiary.
Enjaz beneficiary.
How can I activate my beneficiaries?
After adding the beneficiary via the anb mobile application, the system will initiate an automatic call to your mobile number registered on the system to activate the beneficiary. Also, you can activate the beneficiaries by calling anb Phone Banking at (+966920005555).
I have added some beneficiaries/ bills through anb net service, will I find all of them in anb mobile?
What are the currencies I can view through currency converter function?
Twenty Major World Currencies you get as follows:
AUD - Australian Dollar.
BHD - Bahraini Dinar.
GBP - British Pound.
CAD - Canadian Dollar.
EUR - Euro.
INR - Indian Rupee.
IDR - Indonesian Rupiah.
JPY - Japanese Yen.
KWD - Kuwaiti Dinar.
MAD - Moroccan Dirham.
OMR - Omani Riyal.
QAR - Qatari Riyal.
DKK - Danish Krone.
JOD - Jordanian Dinar.
SEK - Swedish Krona.
SAR - Saudi Riyal.
CHF - Swiss Franc.
USD - United States.
AED - Emirati Dirham.
YER - Yemeni Riyal.
How can I switch between Arabic and English interface?
Language switch is available at the application home screen. "E" , "ع".
Can I use anb token to login to anb mobile?
No, currently anb token can't be used on anb mobile.
Can I pay government fees and utility bills by credit card via the anb mobile application?
How to activate the quick transfer payment "SARIE" though the anb mobile application?
Log in to anb mobile application
Settings menu > Choose quick transfer management
Agree to share some of your data with the SARIE system For instant payments owned by the Saudi Central Bank (IBAN number - mobile phone number - national ID number).
Click on the Activate button.
Set up the transaction limit (maximum SR 2500).
Select the account that you want to link with the alias (you can define more than one account).
Select the alias ID you want from the list (mobile number - ID number - email address).
Go to "Transfers" option from the main menu to conduct your Transactions.

Transfer notes:

The maximum limit for a single transfer is SR 2500, using the Alias or IBAN.

When a local bank transfer is made through the SARIE system with an amount of SR 20,000 or less, it will be executed automatically through the "SARIE" Quick transfers service.

Transfer fees through the "SARIE" Quick transfers service. If the transfer amount is less than SR 500, the value of the fee is SR 0.5, and if the transfer amount is greater than SR 500, the value of the fee is SR 1.